Boat Name Stickers / Vinyl Lettering Designer
Self Adhesive Vinyl Boat Lettering stickers suitable for Canal Boats, Yachts,  Fishing Boats, Canoes, Kayaks, Tenders, Dinghies, Rowing Boats, Commercial Vessels & most marine applications.  Our boat name stickers/decals are made from 7-year premium high-grade vinyl to ensure long-lasting results, all boat names come ready to apply on application tape. 
We strongly advise you to read our Vinyl Letter & Height Guide.  Also see Colour samples here and the  Colour Guide here.
See further notes at page end.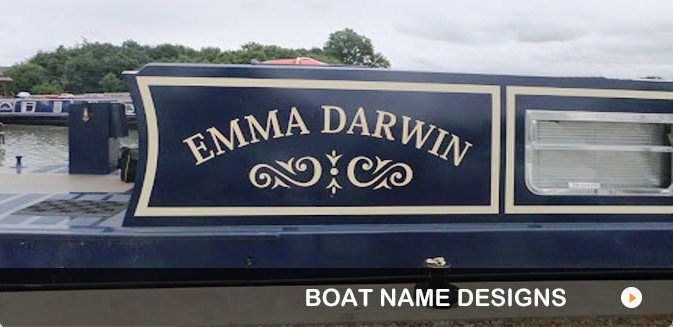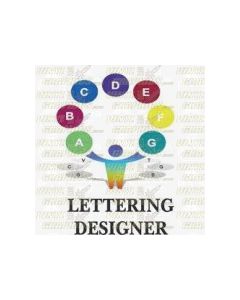 The Graphics Boat has become one of the most popular places to create your vinyl boat name stickers online.  With our simple, easy to use lettering designer, you can create your own boat name from a vast array of fancy and funky fonts!  Our Boat Stickers are suitable for Narrowboats, Yachts, Cruisers, Kayaks, Fishing Boats, Commercial Vessels, Rowing Boats, tenders and most marine applications.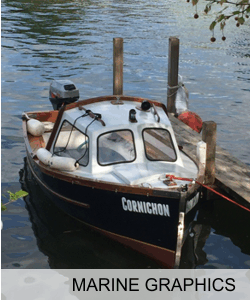 We make our boat name stickers from Premium marine grade vinyl.  As boaters ourselves, we want our decals to last.  If its cheaper elsewhere, then its for a reason.
If you do not see what you want, or would like a custom design or different font style, just Contact Us using the form or call us on 01644 625 005. 
Please be aware that some of our fonts make the lowercase letters appear as capitals, therefore please make sure you are happy with the image in the preview display BEFORE ordering as the graphics will be sent as per the image.
Get your Boat Name on a Polo Shirt - Click Here *New*
Note that we only use premium grades of Marine Safe Vinyl - don't be fooled, there are many different types and grades of Vinyl, and we won't sell those low-end grades sold by many sellers.
Q&A
Can I get a colour sample?

NB: Colour samples are available, CLICK HERE to order.
Do you have a colour guide?
Can I have a product made to a size not listed on the site?

Yes (subject to technical limitations) CONTACT US with the product name and sizes you would like.
If I order two boat names, do you reverse one for the opposite side?

We get asked this a lot, you don't reverse text, unless you are able to read backwards!  Only the effect if you order say a Wave-Top effect, or shapes and flourishes.
Do 2 colour graphics (shadowed) come in two layers? I've heard they can be hard to fit?

Unlike most companies, we pre-layer our graphics so you do not have to struggle to align two or more layers.
I have just painted my Boat/Vehicle - how long before I can fit them?

We recommend waiting a minimum of 30 days for the paint to cure fully prior to installing vinyl graphics.
How long will the Vinyl Graphics last?

Cut vinyl graphics are supplied in Premium Grade 7 Year vinyl, in many circumstances, they can last a lot longer.  We do not use Monomeric or Low-Grade vinyls.  Other dependant factors are UV exposure and the quality of the installation. Printed graphics will have a reduced life when exposed to high UV rays. 
Do I get instructions on how to fit my vinyl boat name?

We send out instructions with all of our products.
How long does it take to get my graphics?

We despatch orders on average, within 2-5 working days, but this may extend during busy periods.  Please bear in mind you will need to add 'postage' time onto this.  If your order is urgent, let us know and we will try to help.
Why not take a look at our other products - we have SSR Numbers, Canal Boat Numbers, Boat Safety Stickers, striping tape and much more - if you cannot see what you need then just ask us.
More Information
MPN
TGB-BOATNAMEDESIGNER
Condition
New
Manufacturer
The Graphics Boat
Extended Description

Boat Names and Vinyl Lettering additional Information

 

Suitable for flat surfaces on most boats - Narrowboats, Yachts, Cruisers, Kayaks, Fishing Boats, Commercial Vessels, Rowing Boats, tenders and most marine applications.
7 Year Grade Marine Safe Vinyl (subject to UV exposure)
Marine Safe after cured
Weatherproof
Comes sandwiched between a backing sheet and an application tape
Full fitting instructions will be provided
Application Temperature Minimum 8 deg C
Surfaces to which the material will be applied must be thoroughly cleaned from dust, grease or any contamination which could affect the adhesion of the material
Freshly lacquered or painted surfaces should be allowed to dry for at least three weeks and to completely cure respectively
The compatibility of selected lacquers and paints should be tested by the user, prior to application of the material.
Some RIB boats are incompatable and a test be needed to ensure adhesion.